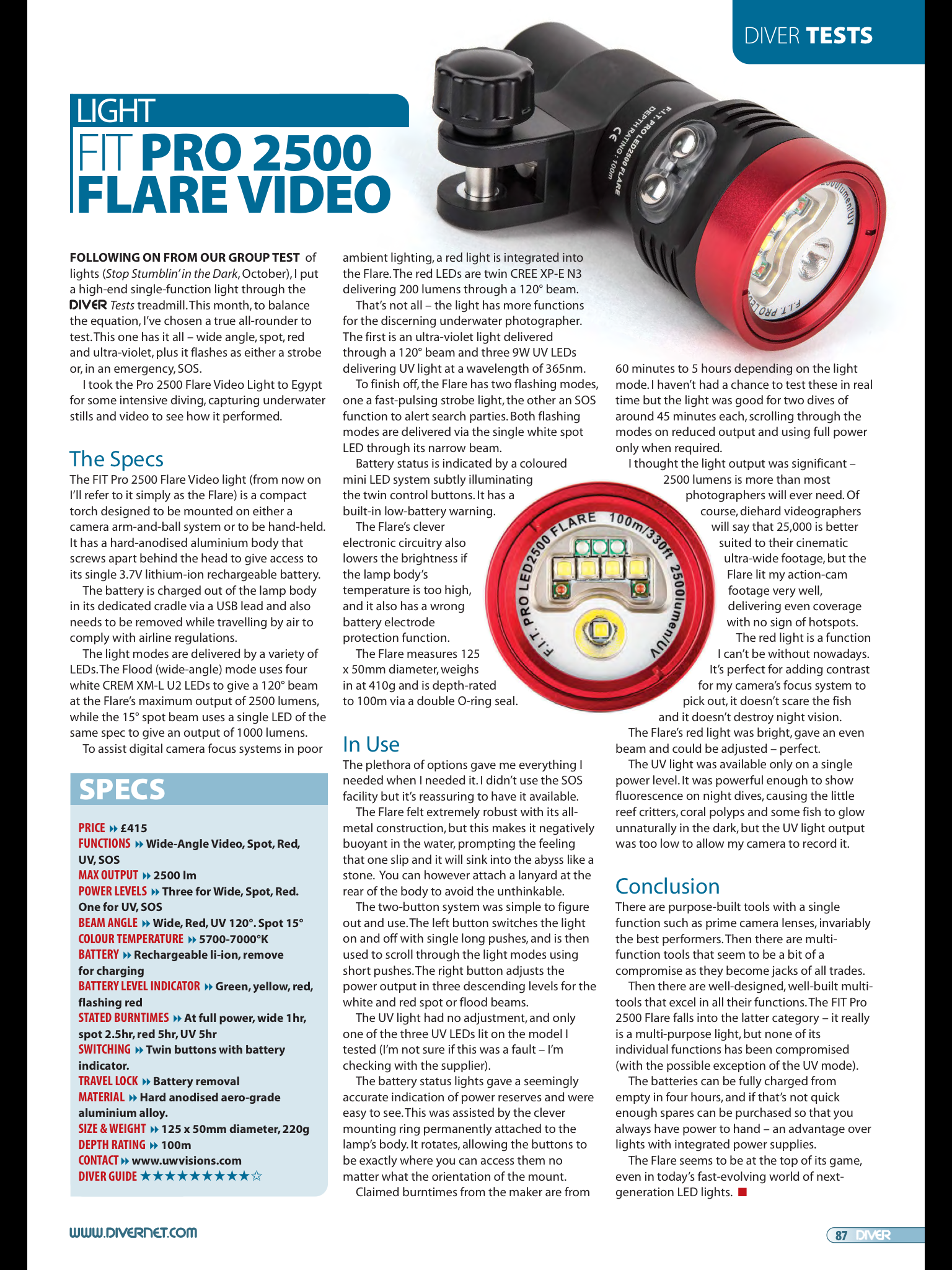 英國專業潛水雜誌DIVER評測FITPRO 2500 FLARE VIDEO中英對照
2015年12月號
FOLLOWING ON FROM OUR GROUP TEST of lights(Stop Stumblin' in the Dark, October), I put a high-end single-function light through the DIVER Tests treadmill. This month, to balance the equation, I've chosen a true all-arounder to test. This one has it all – wide angle, spot, red and ultra-violet, plus it flashes as either a strobe or, in an emergency, SOS.
在DIVER 10月號的Stop Stumblin' in the Dark文章中,我們測試了單一功能的高端潛水燈。為了平衡報導,這一期我們挑選了一款多功能的燈來測試。此款燈擁有廣角、聚光、聚光、紅光、紫外光以及緊急求救用閃光。
I took the Pro 2500 Flare Video Light to Egypt for some intensive diving, capturing underwater stills and video to see how it performed.
我帶了FIT Pro 2500 Flare攝影燈到埃及密集地潛水並拍照和攝影,看看這款燈的性能如何。
The Specs 規格
The FIT Pro 2500 Flare Video light(from now on I'll refer to it simply as the Flare) is a compact torch designed to be mounted on either a camera arm-and-ball system or to be hand-held. It has a hard-anodised aluminium body that screws apart behind the head to give access to its single 3.7V lithium-ion rechargeable battery.
以下簡稱這款燈為 Flare。Flare體積小,可以安裝在防水殼和燈臂上,也可以手持。鋁合金殼體經過陽極硬化處理,將燈頭旋開後裡面可發現裡面安裝的是3.7V可充電鋰電池。
The battery is charged out of the lamp body in its dedicated cradle via a USB lead and also needs to be removed while travelling by air to comply with airline regulations.
充電時必須把電池取出放在USB插座充電器,旅行搭飛機的時候也別忘記將電池取出。
The light modes are delivered by a variety of LEDs. The Flood (wide-angle) mode uses four white CREM XM-L U2 LEDs to give a 120degree beam at the Flares maximum output of 2500 lumens, while the 15degree spot beam uses a single LED of the same spec to give an output of 1000 lumens.
多種光源來自各種LED,散光(廣角)的光源是CREM XM-L U2 LED,光束角度120度,最大亮度2500流明。15度角的聚光使用相同LED顆粒,最大亮度為 1000 流明。
To assist digital camera focus systems in poor ambient lighting, a red light is integrated into the Flare. The red LEDs are twin CREE XP-E N3 delivering 200 lumens through a 120 degree beam.
為了在比較昏暗的情況下對焦方便,Flare內建紅光,光源是兩顆CREE XP-E N3紅光LED,能發出120度角200流明的紅光。
That's not all – the light has more functions for the discerning underwater photographer. The first is an ultra-violet light delivered through a 120degree beam and three 9W UV LEDs delivering UV light at a wavelength of 365nm.
不僅如此,此款燈還有更多功能,可以滿足要求更高的攝影師。內建的9W UV LED可以發出120度角的365nm波長紫外光。
To finish off, the Flare has two flashing modes, one a fast-pulsing strobe light, the other an SOS function to alert search parties. Both flashing modes are delivered via the single white spot LED through its narrow beam.
Flare還有兩種閃光模式,一種是快速閃爍,另一種是求救信號。兩種閃光都是透過單一顆白光LED發出聚光。
Battery status is indicated by a coloured mini LED system subtly illuminating the twin control buttons. It has a built-in low-battery warning.
電池殘量會顯示在按鈕底下的LED燈,低電量時會發出紅色閃光警告。
The Flare's clever electronic circuitry also lowers the brightness if the lamp body's temperature is too high, and it also has a wrong battery electrode protection function.
Flare的智慧型控制電路會在過熱時自動降低亮度,並有防電池裝反的保護機制。
The Flare measures 125 x 50mm diameter, weights in at 410g and is depth-rated to 100m via a double O-ring seal.
Flare的尺寸是 125x 50mm,重410g,雙O圈設計最深可下100m。
In Use 實際使用
The plethora of options gave me everything I needed when I needed it. I didn't use the SOS facility but it's reassuring to have it available.
Flares的功能齊全,能在需要的時候派上用場。雖然我沒真的用上SOS功能,但有這項功能使我安心不少。
The Flare felt extremely robust with its all-metal construction, but this makes it negatively buoyant in the water, prompting the feeling that one slip and it will sink into the abyss like a stone. You can however attach a lanyard at the rear of the body to avoid the unthinkable.
全金屬打造的Flare特別堅固,在水下是負浮力,可以利用燈後面的腕帶掛在手上,避免不小心滑落而沉到海裡。
The two-button system was simple to figure out and use. The left button switches the light on and off with single long pushes, and is then used to scroll through the light modes using short pushes. The right button adjusts the power output in three descending levels for the white and red spot or flood beams.
雙按鍵介面簡單直覺,長按左鍵開/關光源,開啟後再短按可用來切換模式。右鍵調整亮度,白散光/白聚光和紅光皆可調三段亮度。
The UV light had no adjustment, and only one of the three UV LEDs lit on the model I tested(I'm not sure if this was a fault – I'm checking with the supplier).
UV光無法調整亮度,而且三顆LED只有一顆會發亮(其實是因為其中兩顆發出的光是不可見光,只有一顆發可見的紫光,並非故障)。
The battery status lights gave a seemingly accurate indication of power reserves and were easy to see. This was assisted by the clever mounting ring permanently attached to the lamp's body. It rotates, allowing the buttons to be exactly where you can access them no matter what the orientation of the mount.
電池殘量顯示精準且容易判讀。球頭/YS轉接頭可旋轉到合適的位置,讓按鍵永遠在你想要的位置。
Claimed burntimes from the maker are from 60 minutes to 5 hours depending on the light mode. I haven't had a chance to test these in real time but the light was good for two dives of around 45 minutes each, scrolling through the modes on reduced output and using full power only when required.
根據使用的模式,充飽電後可以用上60分鐘到5小時。我還沒有實際測完所有模式下電池能撐多久,但每潛45分鐘的話至少都能撐兩潛,其中使用的情境包或切換不同模式,並在需要的時候開全亮。
I thought the light output was significant- 2500 lumens is more than most photographers will ever need. Of course, diehard videographers will say that 25,000 is better suited to their cinematic ultra-wide footage, but the Flare lit my action-cam footage very well, delivering even coverage with no sign of hotspots. The red light is a function I can't be without nowadays. It's perfect for adding contrast for my camera's focus system to pick out, it doesn't scare the fish and it doesn't destroy night vision. The Flare's red light was bright , gave an even beam and could be adjusted – perfect.
我覺得2500流明對於大部分的攝影師來說已經很夠用,當然,對於在水下拍攝大場景的電影來說,可能需要25,000流明的燈,但是對於我的運動型攝影機來說,Flare的表現已經非常完美,光線可以涵蓋整個視角且不會產生因為太暗使得相機提高ISO產生的燥點。紅光對我來說是不可或缺的,可以增加對比以輔助對焦,並且不會把魚給嚇跑,也不會讓夜潛變得像白天。Flare的紅光很亮,光線均勻並且可以調整亮度 – 完美!
The UV light was available only on a single power level. It was powerful enough to show fluorescence on night dives, causing the little reef critters, coral polyps and some fish to glow unnaturally in the dark, but the UV light output was too low to allow my camera to record it.
UV光不可調強弱,但夜潛時已經足夠讓珊瑚礁生物、珊瑚蟲和某些魚類發出螢光,只不過發出的螢光不是太亮,我的相機無法完整捕捉螢光。
Conclusion 結論
There are purpose-built tools with a single function such as prime camera lenses, invariably the best performers. Then there are multi-function tools that seem to be a bit of a compromise as they become jacks of all trades.
市面上的產品有針對專一功能設計的產品,例如定焦鏡,以性能完美為優先考量。也有多功能的產品,但樣樣通樣樣鬆,可能得犧牲一部分性能。
Then there are well-designed, well-built multi-tools that excel in all their functions. The FIT Pro 2500 Flare falls into the latter category – it really is a multi-purpose light, but none of its individual functions has been compromised(with the possible exception of the UV mode).
還有一類產品是具備各種功能,在性能上卻不妥協。FIT Pro 2500就屬於這一類的產品 – 功能齊全且每樣功能都非常好用(除了UV模式還不是十分完美)。
The batteries can be fully charged from empty in four hours, and if that's not quick enough spares can be purchased so that you always have power to hand – an advantage over lights with integrated power supplies.
電池充飽電需要4小時,如果覺得不夠快還可以額外購買備用電池 – 這比內建電池式的攝影燈要方便。
The Flare seems to be at the top of its game even in today's fast-evolving world of next-generation LED lights.
在現今LED科技高速發展的時代,Flare仍屬頂尖之作。