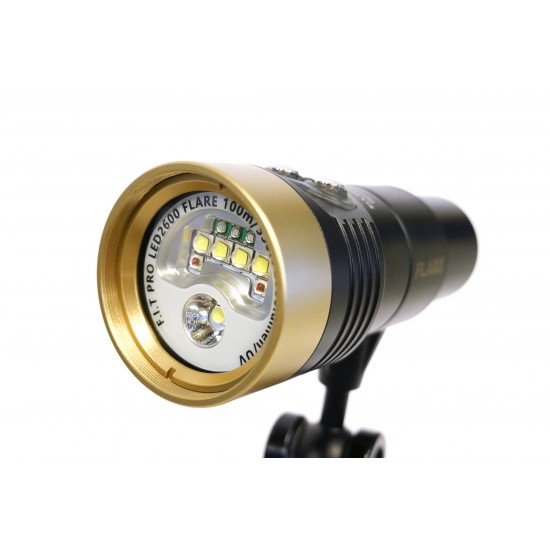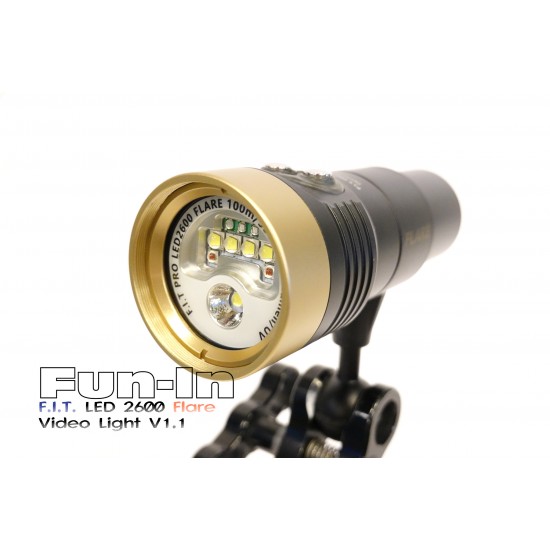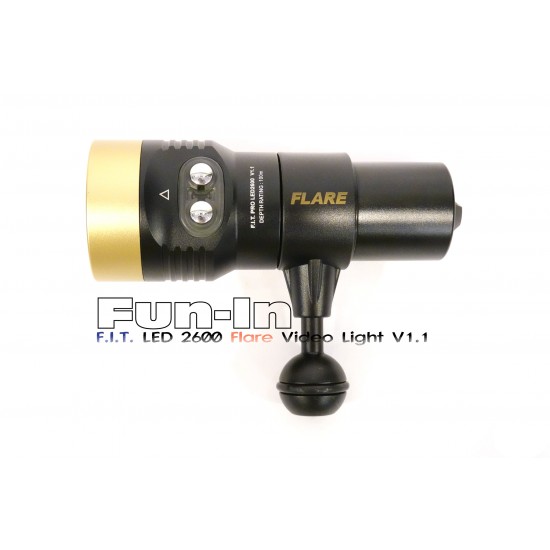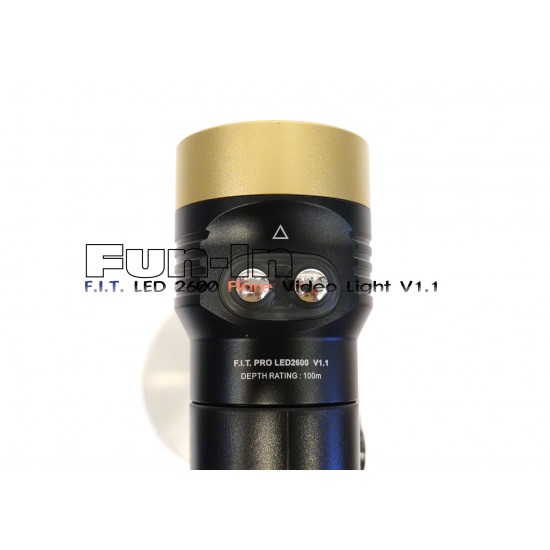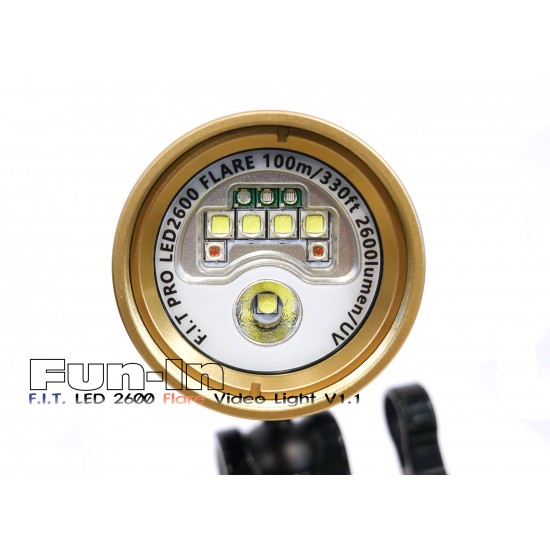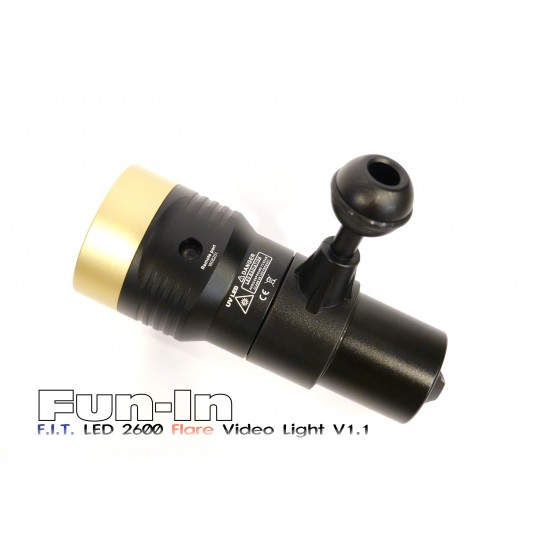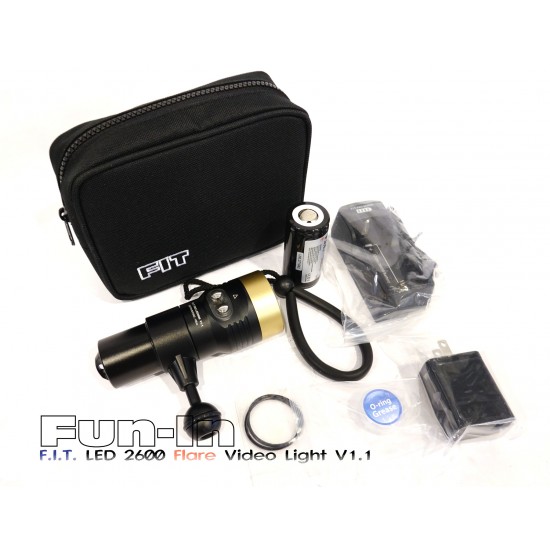 Choice Top Brand







F.I.T. LED 2600 Flare Video Light V1.1
[Description]
Difference between V1.0 and V1.1:
The light head changes to gold color.
The new battery comes with overcharge protection circuit (6.4cm vs 6.9cm), the charger is compatible but the battery can't be used on old version of LED2600
The brightness control of the wide and spot light increses to 5 stages
The default mount is ball type. (YS mount can be choosed when ordering)
Package contains: Battery x1, charger x1, Grease x1, Spare O-ring x1
Five modes switch: White(Spot+Flood)/Red/Flash/UV
Charger can be battery bank to charge cell phone。You can use mini USB or electric socket to charge battery.
Lumens: 2600 White Flood / 1000 White Spot / 200 Red / 9W UV
Beam Angle: White 120 Degree, Spot 15 Degree, Red 120 Degree, UV 120 Degree
Battery: Lithium-ion 3.7V/5800mAh #32650, charging time arounf 4 hrs.
Burn time:

White LED Full 100% around 60 mins, Red LED 5 hours up

Depth Rating: 100m/330ft
LED spec: CREM XM-L U2*5PCS (White, 5700K~7000K) + CREE XP-E N3*2PCS (Red, 620nm) + UV 365 nm
Color temperature: 5700K~7000K(White)
LED Life: more then 50000 hours
Material: Aircraft degree aluminium+Hard anodized
Size: 50(D) x 124.8(L) mm
Weight: 220g(under water, battery included) / 410g (in air)

Included mounts: 1" Ball

Function: White light, Red light, Battery status indicator, Low battery wearning, Low battery power protection,

Temperature protection (If the temperature is too high, it will lower down the brightness automatically to protect the light)

.
Special function: Wrong battery electrode protection

Warning 1:

Please remove the battery during transportation.

Warning 2:

Two of the UV light is invisiable UV light. Our eye can't sense it but it does work. Please don't look directly to the UV light. It will hurt your eyes.

Battery Usage Tip

: Please don't deplete your battery completely for a long time. Please recharge it reguarly to keep battery's life longer.

Battery Usage Tip 2

: It takes around 4 hours to charge the battery. (from fully dischared to 100%)
Warrenty: Light 1 year, Battery 3 months
[Color Tempature Data]
1. White
High 7484K 2279.02lm
Mid 7411K 1086.34lm
Low 7345K 505.26lm
2. Red
High 1393K 130.02lm
Mid 1382K 96.12lm
Low 1377K 70.30lm
[Manual & Review]
[Shooting Sample]
[Introduction]
Stock:

In Stock

Model:

UW-LED2600G

F.I.T.